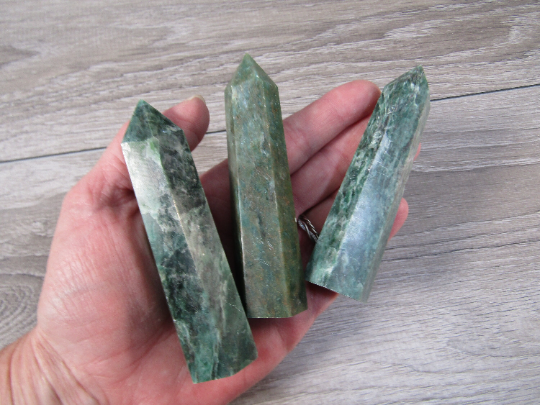 Green Lepidolite Stone 4-5" Obelisk
---
Green Lepidolite can be used to assist you to work on things layer by layer for matters of the heart. Some of the disks have texture to them and some are more smooth.
You get one green lepidolite stone obelisk similar to the ones pictured. Note sizes may vary +/- 3/4".
Low stock - 2 items left

Inventory on the way
Healers all over the world use crystals and have since recorded history and most likely even before for spiritual, emotional, and physical healing. Please note that crystal healing is not meant to replace conventional medicine, but rather to complement and enhance it. It is not to be used as a prescription, diagnosis or treatment. The information given is purely metaphysical in nature and is by no means medical. Crystal Healing is not an independent therapy, but one that is part of a holistic healing approach. By using this site and associated materials, you acknowledge and agree that you personally assume responsibility for your use or misuse of this information.