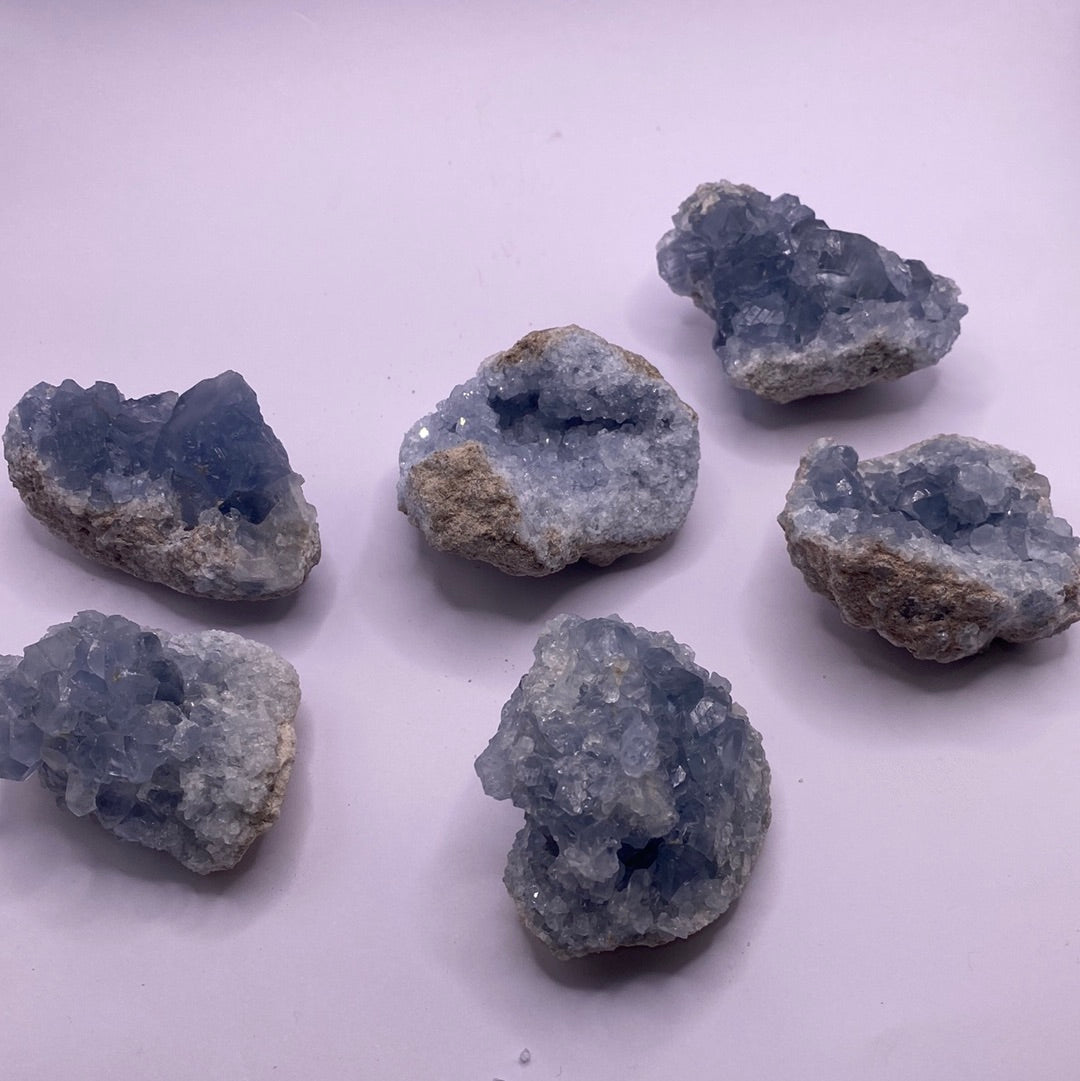 Celestite Geode Chunks (M)
---
In stock, ready to ship

Inventory on the way
Celestite is a mineral that's rich in energy. It can be felt just by touching it. This stone is used to activate the third eye and crown chakra, as well as clear the channels between them. With a beautiful blue color, this mineral is also great for boosting intuition and healing.
Celestite is an attractive stone to have in your life. If you are feeling stuck, stagnant, or simply need a fresh start in your life, Celestite can help you find the energy to start anew. With calming and soothing vibrations, Celestite will help you feel more grounded and emotionally balanced. With this balance, Celestite can help you feel more at peace with yourself and the world around you.
Made with love, light, and positive energy, cleansed and Reiki applied before we ship out to you. Crystals are intuitively chosen for you.
- Can be used to help in analysis of complex ideas or physical realities by synchronizing one's conscious with the mineralogical structure
- Attunes one to heightened powers of rationality
- Allows one to recall and to acknowledge both one's spirituality and the gifts of the Divine
- A stone for balance
- Acts as an equilibrant to outside forces
- Stabilizes the yin-yang values within one's energy field
- Assists in the alignment of the dimensional energy centers with those of the ethereal domain
- Promotes clearing and perfecting the chakras
- Promote a pleasant disposition
- Provides a fluency in communication
- Can provide access to, and transfer of, information from the purity of the angelic realms
- Assists in clairaudient endeavors, affording lucid, distinct, and articulate verbalization of the messages received
- Contains an innate wisdom which is accessible to the user
- The information from within the stone, is useful with respect to one's advancement in the spiritual kingdom
- Can help one to achieve that which would be helpful as the end-product of manifestation
- Help one to recognize the difference between worldly manifestation and a manifestation which would further ones development
- A stone for astral travel, providing for the freedom to access pre-determined sites and assisting one to surrender to the inner peace required. It is an excellent assistant for dream recall.
- Brings ""bright hope"" in days of despair
- Brings calmness and harmony to ones life,
- Can provide an increase in ones avocation
- Sometimes appears that the stone is inhabited by the ""fairy of good fortune"";
- An excellent stone for use in the pursuit of music, in the production of delicate arts (e.g., watercolour, scrimshaw, jewelry fabrication and design, etc.])
- An exquisite stone to give - in the spirit of love and with the blessing of respect
- An excellent healing stone
- Blue celestite can cleanse the area of affectation, transmuting pain and chaos into light and love